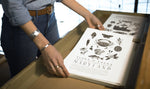 Starting off our new blog series highlighting the makers we love, we are excited to introduce you to one of our shop vendors, Clara Cline from The Wild Wander.
We met first met Clara at a craft show in Richmond, Virginia. Having been a fan of her illustrations and seeing her work on Instagram, we just had to find a way to collaborate with her. A talented artist and owner of her own small business, we knew our customers would value Clara's work as much as we did.
The Wild Wander was actually one of the very first vendors we carried, second only to Field Notes. We even started carrying a few of her prints online, last winter, before the brick and mortar shop opened. When the shop did open, we made it a point to carry a wide range of her hand-illustrated products, which has grown to over 20 unique items, including letterpress and silkscreen prints, t-shirts, and tea towels.
We were thrilled when Clara agreed to share her story with our readers. Owning a small business while raising a family can be overwhelming, to say the least. Clara shares with us how she juggles these responsibilities, what she's learned from owning her own business, and what the future holds for The Wild Wander.
We hope you enjoy the conversation!
What led you to start your own business?
"I've always had a love for illustration and design, but never really thought of it as a realistic possibility for a job, especially not having any background in it. I have quite a bit of self-doubt and am pretty risk-averse, so it was sort of a series of accidents that prodded me in this direction."

"I got divorced at a young age and needed something to fill up all that break-up time, so I started an Etsy shop making greeting cards. I ended up having a few big successes right away, which gave me either a buoyed or inflated sense of what to expect going forward, depending on how you look at it."

"I worked full-time for a year or two while illustrating and running the shop into the wee hours of the morning, which eventually led to my next big jump. I got a single freelance project at a time when I happened to be working a job I really hated, so I made the leap and started working for myself."

"I definitely never planned to work for myself, and honestly, my preference still is to work with other people in a collaborative environment. I love getting to bounce ideas off other folks, and having someone else to rein in my ideas."



What inspired you to create your Field Guides to Fifty project? What is the process you follow to determine which species are included for each state?
"I've always really loved nature, and the original Field Guide to Virginia was a bit of an ode to all the time I spent as a kid at the Virginia Living Museum in Newport News. The print seemed to strike a chord with folks, and people started asking for other states. Originally I was against the idea simply because I felt like I didn't know them well enough to accurately represent them, but after listening to a podcast about John James Audubon I became really taken with the idea of how he set out to document every bird in America."
"I've always been flighty with the focus of my work, so having a clear-cut goal gave me structure, and it has been so rewarding. I have so much more appreciation and understanding for regional biodiversity and the role it plays in our delicate ecosystem. I've been trying to balance picking local favorites (it's probably illegal to create a guide to South Carolina without a palmetto) with overlooked species that are integral to the ecosystem, like freshwater snails."
Which of your projects has been most challenging, and why?
"This is so tough to answer! The Field Guide project has probably been the most daunting. I wanted to set a high bar for myself in terms of accuracy and getting the "feel" for a state, and it's taken a lot more research than I expected. I spend a lot of time on blogs, state parks sites, and even in social media comment threads for the states to get a sense for the places I've never been."
"I don't want to just pick ten animals off a Wikipedia list, I want to know what local wildflowers hikers are most excited to see when the seasons are starting to turn. The other aspect of it is the whole "native" species thing has gotten far more complicated than I originally anticipated. Since I'm wholly unqualified to be parsing out native versus endemic species, there have been times I've spent eight hours trying to sort out whether a seaweed that drifts in a set current, counts as native."



You have a two-year-old and are expecting your second child, how have you juggled owning a small business and the responsibilities that come with parenting?
"Is "not very well" a good answer? It's been such a struggle and one that I have to calibrate on a day-to-day basis. In some ways having kids has forced me to prioritize my time and business goals much more effectively, and I find myself wishing I had this kind of focus before I had kids. On the other hand, I feel like I can never get all my burners going at the right levels. If I'm fully present for work, I'm not fully there as a parent and vice versa. It's the same struggles so many working parents have to deal with, and I have to constantly remind myself that the whole idea of "balance" isn't a stagnant state."
What does the future hold for The Wild Wander? Do you have any large projects in the works?
"When I first started this business I was very big on planning my next steps. I wanted to do all the big shows, license with all the big brands, all that good lofty stuff. Running it for a few years has helped temper my aspirations in a good way. I'm more focused on personal goals now, and I think it's helped sharpen my work and focus."
"Finishing the Field Guide to Fifty project is a personal aspiration that I want to complete, and in terms of work, I'd like to continue finding illustration opportunities with like-minded clients, especially in the educational sphere. I've been able to do a few projects for historical and naturalist groups, and it's always incredibly rewarding to feel like you're being recognized for your wavelength and people get what you're about. My dream job would be being able to collaborate with the Parks Service."



What has been most rewarding about owning your own business?
"It's such a 
cliché
to say this in the design field, but learning the benefit of failure. I mentioned before that I'm risk-averse, and I realize that virtually everything I've done since belies that, but it's true. I've always been the type to try something once, and if I wasn't good at it, to give up for fear of failure or rejection or whatnot. In a small business when something goes wrong (and it invariably does, whether it's a display breaking during a show, or investing in a large run of a print that's a total flop) it immediately becomes a work-around moment rather than a hard stop failure."
"Working in a creative field has built up my ability to not be too precious. I try new things, sometimes they work, sometimes they don't, and for better or worse, the successes are just as fleeting as the failures. It's believing in the possibilities for the future regardless of what you're currently facing, and it's been a mindset that's really changed how I approach everything in my life."
Stay tuned for more Maker Spotlights and don't forget to subscribe to our newsletter to be the first to know about upcoming events and new
product releases
.